"I do it in public"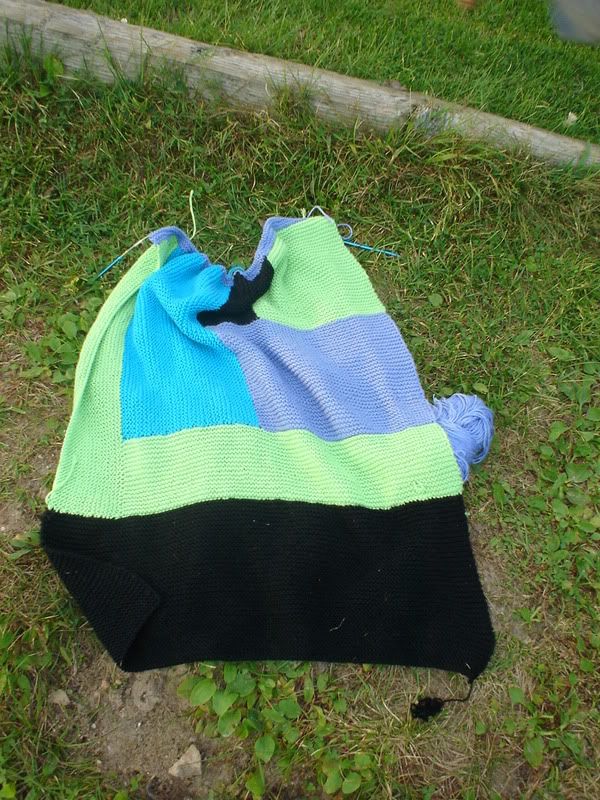 To prove that I really
do
still knit and often do it in public... a picture post. This is the dreaded Moderne Baby Blanket that STILL is not done (as seen at Lake Lansing North last Saturday). I've decided that since I only have 11 days until the arrival of the little monster I'm cutting this blanket short. I'd planned on doing that anyway, but still... yeah. I'm going to work on that top block there and once it's of a decent size I'm done. Then I'll do all of the crap needed to put the back on and say, "Wee I'm done!" Then I will go to Michaels and buy the materials I need to do my Day of the Dead KAL project because the next thing I knit after this blanket is ALLLLLLLLL about me. Then I'll return to knitting for other people. :o)
But yeah... the verdict on this pattern... it's easy and mindless (until those intarsia blocks which I'm avoiding like the chicken pox) but it's complete torture when done with the size needles suggested in the book. If you do this, I HIGHLY recommend that you get a bulky yarn and use big needles to speed things up. Then you might not risk never wanting to knit again because you're stuck knitting forever huge blocks in garter stitch. :o)
In other news... school is going well, my Great Aunt Jean died, my mother is getting divorced from Step Dad and is moving out of their house tomorrow, my sister in law is ready to pop out the baby, work sucks as usual, my baby brother turns 11 on Saturday *sobs*, and things are just nuts in general. :o) Oh and I SO want to make a tee shirt about knitting that says "I do it in public" or something along those lines. :o)
Happy Thursday!