*waves*
I really need to get out of Blogger. I can't stand the photo posting thing. I have pictures to share with this post and can only get one to show up. So, go to my
livejournal
for corresponding pictures for this post. :op
So... I'm still not done with the baby blanket. I did manage to put the back on it last weekend but once I started tying it I was really disappointed in how uneven it was looking. I'll still finish it though and then make Devin something much cuter later. :op I think I'll stick to good old fashioned fabric quilting, I know how to do it and the results are much nicer. That's not to say I'll never try knitting a blanket again, I'm sure I will.. but not right away. Actually, I have some
Thick & Quick
in the Adirondacks color way that I want to try and make a blanket out of, but that stuff is so big it'll be fast. Duh Kel, that's why it's called Thick & Quick. :op
But yeah... I actuall have been knitting. :o) Last weekend I made a hat for Devin. I cheated and used my Knifty Knitter, but the child needed a hat that wasn't ugly. They gave him a knitted hat at the hospital when he was born but it was fugly.
Wesley tried to put the hat on Devin but this was as far as he got. :o)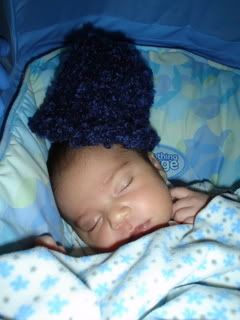 My brother said it looked like a girl's hat but whatever. I started another hat for him tonight but I'm not using a pattern so I'm just winging it. I'm thinking about making it one of those hats with the square tops that sort of flop down, but we'll see.
And tomorrow (today actually since it's after midnight) I'm planning on buying the last thing I need to start working on my Day of the Dead KAL project, and perhaps some yarn for some socks (Can we say yarn event at Threadbear?!). I'm feeling the need to knit some super yummy socks to wear. Have I mentioned that I love the Fall and this weather is making me giggle with glee? I broke out one of my scarves from last year today and it was heaven wearing it again. :o)
One more week of my Wednesday class and then Wednesday nights will be dedicated to watching
Lost
and knitting at my friend Shawn's house. :o) Yay! I really should start thinking about Christmas gifts if I'm going to be knitting any. :o)
That's about it for now. :o)
Hugs & Knitting!